Welcome to WEST VALLEY CYCLE!

Goodyear, ARIZONA (West of Phoenix Area)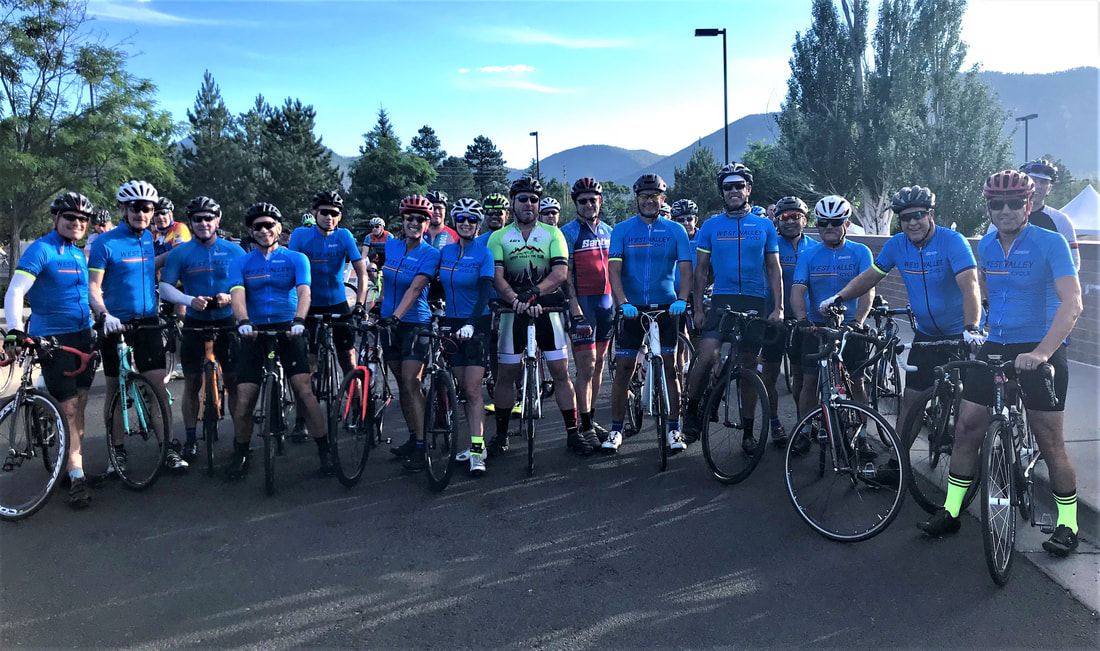 Our route has open roads, good climbs, two water/store stops, non congested roads, and few traffic lights to contend with. Ave 70 to 140+ riders
Every Saturday
; groups are formed. Riders from all over the Valley including:
AZ Cyclery, TREK Bicycles, REGROUP, Velo Bike Shop, Swiss American, Bicycle Haus, Athlete Octane, Team Fleming, Bicycle Vibe, Exhale Bikes, ASU, Faster Cyclist, Team-Winded.
We have a
A-G
roup
(ave 21-26mph), mid-tempo
B-Group,
and a no-drop
C-Group.
We welcome all new riders. Twice, we re-group: Once in Estrella
(Elliot Mrkt ~1hr:15min from the start)
and the 2nd in Verrado at Bashes
(an ~1hr later).
There are 6 sprints points for the
A-Group
along our ~60mile route. Much thanks to the riders pulling and giving it their all! Our mission is to build fitness, camaraderie, pull for each other, make a new friend, & get in a few laughs between our hammer fest.
WEST VALLEY CYCLE is a fun, training, group ride! No Permits, No Insurance, No Dues. > YOU ARE RIDING @ YOUR OWN RISK. and... No "Road Attitudes"! :)
Link To WVC Saturday Route:
https://connect.garmin.com/modern/activity/1478786585
WVC #1 Rule is Safety!
http://www.roadid.com/RoadRules/
Saturday Ride
~62 miles, option ~35 mile loop
When:
6:30am SHARP
, We Roll!
Where: LifeTime Fitness
(Parking lot - SOUTH / EAST Corner!)
14540 W McDowell Rd, Goodyear, AZ 85395
(Map Below)
To Estrella Mtns, Verrado, and back
---
WVC Route, Map, Elevation:
Click Here for A-Group
-Courtesy of Mike Smith (wvc/trek)Click Here for B-Group -Courtesy of Steve Markgraf
Sunday Recovery Ride
~35 miles
When: See Facebook link for time. Or email Vicki / David.
Where: LifeTime Fitness, Palm Valley, AZ (Usually to Verrado. Then Hills &/or Coffee. Then back!)
WANT A WEEKDAY RIDE? POST A WEEKDAY RIDE! ..ROADIE TALK, STAY UPDATED! Facebook Fan of "West Valley Cycle"
To Join WVC Facebook, come to Saturday ride first: Click here

Questions / Comments / Sponsorship / Promotion Inquiries:
David Herzog Westvalleycycle@yahoo.com
949.212.4000